STUDY GUITAR WITH NEIL RAMBALDI: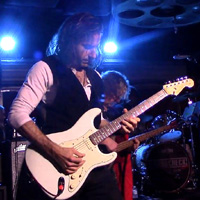 Neil performing in Hollywood, CA with world-renowned
bassist Stu Hamm (Joe Satriani, Steve Vai, etc.)
Neil is currently taking a limited number of guitar students of all ages and abilities WORLDWIDE via Skype (and other video call platforms)...

...or (if you are in the New York City area / Northeast New Jersey area) at his centrally-located professional recording studio.


Below you can read more about his vast experience as a musician, recording artist, and guitar instructor. Click
here
to contact Neil via the Contact page and he will be happy to answer any questions you may have, including about what music you like, what your goals are with the guitar, as well as his rates and availability. Neil looks forward to hearing from you! Students of all abilities, styles, and ages are welcome--beginners, intermediate, and advanced!

(Recommended ages for in-person lessons: Ages 6 & up)
(Recommended ages for online lessons: Ages 10 & up
)




Notable Former Students of Neil Rambaldi:



▪ Alicia Vigil (Touring Bassist of DragonForce) (Roadrunner Records / Universal Records)
▪ Phoebe Bridgers (Multi-Grammy Nominated Solo Artist) (PAX-AM Records)
▪ Andrew Wells (Platinum-Selling Producer, Songwriter & Multi-Instrumentalist) (Jason Mraz / Celine Dion / Halsey / Phoebe Bridgers)
▪ Mark Raggio (Producer, Songwriter & Guitarist) (Boogie)
▪ Waylon Rector (Guitarist & Songwriter) (Kitten / Phoebe Bridgers)
▪ members of The Regrettes (Warner Brothers Records)
▪ Zoey Deutch (Actress) (Zombieland: Double Tap / Buffaloed)
▪ Will Bradley (Actor) (Pretty Little Liars)
▪ Finn Bell (Guitarist, Songwriter, Frontman) (Love Ghost)
▪ Daniel Alcala (Guitarist, Songwriter) (Love Ghost)
▪ members of Kitten (Elektra Records / Atlantic Records)
▪ and many more!




Student Testimonials:



Michele W. - Los Angeles, CA, USA:







"I can't say enough good things about Neil. If you don't choose him for your guitar teacher then you are missing out. Neil is not only an incredibly talented guitar player, he is highly educated and knowledgeable about anything guitar related. As a teacher, I would say, he is what I wish all my teachers were like throughout my education. Neil is a very kind person with the patience of a saint. He is very clear with his instruction and he teaches each student based on their own individual abilities. It's obvious he loves teaching and he genuinely cares about his students and their progress. Neil has been teaching guitar to my 13 yr old son for the past 4 years, who never played guitar before, and he has become a really good player and he can read both sheet music & guitar tablature. This is all due to Neil's full scope teaching approach. Neil has also been teaching me guitar for the same amount of time. I had guitar lessons back when I was my son's age but I never felt I learned anything and my teacher was not inspiring at all. I never continued playing but always wished I had. Neil is inspiring! Whether you're 5 or 50, Neil knows how to teach anyone at any age how to play the guitar based on their level of desire. He is also totally reliable and professional."

Tommi T. - Los Angeles, CA, USA:







"Neil is an exceptional guitar teacher (and player and performer)! He taught my son guitar lessons for years and was very knowledgeable and patient and, from what I can tell, really improved my son's skills. Neil was always extremely professional--very reliable, easy to schedule appointments, always on time, and he exuded a calm, caring attitude. It's such a gift when someone with Neil's talent is open to sharing it by teaching others."

Andrew W. - Los Angeles, CA, USA:







"Neil is the greatest guitarist and teacher I've ever met. He's extremely patient and simply the best."

Lisa S. - Los Angeles, CA, USA:







"You can't get a better guitar instructor than Neil. He's fabulous, very patient, kind, and well trained in his field. My son was very happy with him for many years. If you can get a spot with him, take it! You won't regret it."




For Skype lessons, all you will need is:



1. Computer, Laptop, or Tablet with a Webcam, Built-in Microphone & Speakers
(most newer devices have these things)

2. High-Speed Internet Connection
(most internet service is high-speed)

3. Skype Account
(or

other video call platforms accepted

)

4. Access to a Printer, sometimes
(for printing exercises and sheet music received via e-mail from Neil)

5. Smartphone or similar 2nd device
(used occasionally during the lesson to record or playback audio notes, and to play a metronome app.)

6. Pencil
(for taking some notes on the printouts)

7. Paypal or Venmo Account
8. Guitar
(of course!)
MORE ABOUT NEIL:
•Neil holds a B.A. Degree in Music from William Paterson University and has also attended the Guitar Sessions Program at Berklee College of Music.
•24 years of guitar teaching experience and professional performance/recording experience.
▪
Voted as a top-10 international finalist by guitar legend Steve Vai in the Tonos & Ibanez Guitar Challenge. (SEE LINK)
▪ Billboard #4 hit session guitarist and song arranger
(SEE LINK)
▪ Has performed/collaborated with many artists and musicians including Universal Records recording artist & WWE ring announcer Lilian Garcia; Nuno Bettencourt of Extreme; Aaron Kamin of The Calling; Kenny Simmons of The Commodores; Stu Hamm (bassist: Joe Satriani, Steve Vai); Carl Restivo (guitarist/vocalist/bassist: Tom Morello, Perry Farrell, Rihanna); and Demian Arriaga (drummer/percussionist: Jonas Brothers, Nick Jonas, Richie Kotzen) among many others.
▪ Has released two acclaimed solo albums receiving terrestrial (FM/AM) radio airplay in more than 15 countries worldwide.
▪ Has had many of his songs featured in TV, Film, and various media including national and international TV shows, TV commercials, movies and video games for companies including MTV, AMC TV, National Geographic, ESPN Films, Fuel TV, Activision, and many others.
•Lessons are conducted in or from his professional studio in the Northeast New Jersey / New York City area, USA.
•Develop a solid command of the guitar and/or a broad knowledge of music theory with optional ear training, and have FUN in the process!
•Specializing on both acoustic and electric guitar in the styles of Rock, Blues, Classical, Jazz, Pop, Folk, R&B, Soul, Metal, Funk, and more.
•Neil's time-proven method is a customized approach to studying the guitar that works for students of
all ages
and
all abilities
.

(Neil has taught many students that have gone on to tour the world as signed artists or as backing/session musicians for signed artists.

He has taught anyone from beginners to advanced musicians

including seasoned professional musicians, as well as TV, film, and theater actors and actresses.

His students have ranged in age from 6 to 70+.

)
•Go at your own pace.
•1 hour lessons.
•Reasonable rates for top-notch instruction.